Good morning! Before I get to sharing my recipe for today, I wanted to give another yoga update as I've been participating in Courtney's June Yoga Challenge.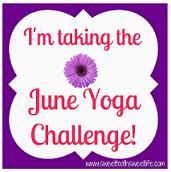 I have now tried a Gentle class, a Flow class and four Hatha classes. I originally purchased a beginner's one week pass at my yoga studio, which allowed me to take unlimited classes for one week for $15. I took four classes last week, so I think I got my money's worth! When my pass expired, I decided to go ahead and buy an unlimited monthly pass for $50. I plan on going twice a week, and if I do, it will make the monthly pass a much better deal. Plus it will hopefully motivate me to go more often if I ever am lacking in motivation!
As I mentioned before, the Gentle class was just too slow for me. I think I am going to stick to at least one Hatha class and one Flow class each week. I really enjoy the Hatha classes and the Flow class that I took had me sweating, so I think it's best to do a combination of the two.
Here are some of my thoughts on yoga from my experience so far:
When I walked into my first class (they ask everyone to get there early and most people do), my first thought was, "this looks like nap time for adults!" Everyone was lying down on their mats and it just reminded me of kindergarten :).
I can't get over feeling like my yoga instructors are trying to hypnotize me at the beginning and end of class! The way they speak softly and draw out their words sounds like hypnotization.
I wish Teddy could give me tips on his downward dog. I think it is actually the hardest position for me – I just don't have the flexibility in my back and hamstrings. I also never really put two and two together that the position was named after the stretch that dogs do. Duh! Teddy does it every time he gets up!
I used to be a lot more flexible. And I mean a lot. Growing up, I was never strong or fast or skilled at sports, but I was always flexible. It was my forte. Dance, gymnastics, ice skating – they all required me to be flexible – and I was. I did backbends and splits in my sleep. Now I'm having trouble doing a supported bridge in my yoga class. What happened to me?! This realization is definitely motivating me to get my flexibility back!
I can't get used to the whole "ohm" and bowing at the end of class. Every time it happens I'm silently giggling to myself. I know it's supposed to be meditative (and I don't mean to offend anyone!), I just don't know if I'll ever be able to feel connected like everyone else in the room seems to be!
And there you have it! I'm loving yoga so far and have a lot to work on. Let's hope I can keep it up!
Whole Wheat Pineapple Banana Bread 
Moving on to my latest sweet treat!
Banana bread is one of my all time favorite breakfast and snack foods. My Mom made it all the time when I was growing up, and she would purposefully undercook it so that it was nice and gooey – just the way I like it!
When I saw this recipe for pineapple banana bread the other day, I knew I had to make it. Pineapple is my favorite fruit, after all! I made it a bit healthier by using whole wheat flour and substituting the oil for apple sauce. It came out delicious and was eaten up very quickly! The pineapple added just the right amount of sweetness and extra fruitiness.
The only thing I'll do differently when I make it again is cook it for less time so that I get the gooey consistency that I love. Since I know I'm a bit strange for my love for undercooked banana bread, the recipe I'm sharing is how most people prefer it – fully cooked!
If you need a little extra motivation to get baking, think of how your house will smell while it's in the oven :).
Just preheat your oven and mix together the flour, salt, baking soda and cinnamon in a medium bowl.
Then mix your eggs, applesauce, sugar and vanilla in a large bowl. Add the mashed banana and crushed pineapple and stir until well combined.
Gradually add the dry ingredients to the wet and stir well.
Then pour the mixture into a greased bread pan and bake at 350 for about an hour.
Let cool and enjoy!
Whole Wheat Pineapple Banana Bread
Adapted from The Church Cook
Ingredients:
1.5 cups whole wheat flour
1 cup sugar
1/2 tsp salt
1/2 tsp baking soda
1/2 tsp cinnamon
2 eggs
3/4 cup unsweetened apple sauce
1 tsp vanilla
4 oz crushed pineapple (1/2 a can)
1 cup mashed banana (approx. 2 bananas)
Directions:
Preheat oven to 350.
In a medium bowl, combine the flour, salt, baking soda and cinnamon.
In another larger bowl, beat the eggs, apple sauce, sugar and vanilla until well combined. Then stir in the mashed bananas and crushed pineapple.
Gradually add the dry ingredients to the wet and stir to combine.
Pour the mixture into a greased 8x4x4 bread pan.
Bake at 350 for about an hour, until a toothpick comes out clean (I baked mine for 55 minutes).
Let cool and enjoy!