It's Wednesday – you know what that means… Time for WIAW! For those of you who don't know, Jen over at Peas and Crayons hosts WIAW every week – check out her blog for more information on it.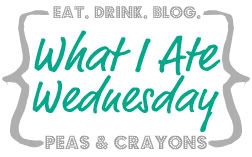 Breakfast
Breakfast was nutella overnight oats, with bananas. I also had an un-pictured double chocolate chip oat cookie as a mid-morning snack. It was quite a chocolatey morning!
Lunch
Lunch was an orange creamsicle spinach smoothie and a sandwich that consisted of sun-dried tomato turkey, cheddar, and eggplant pepper spread in between garlic, onion and spinach foccacia bread. That was enough to get me through the work day and I skipped my usual mid-afternoon snack, but I did have a bit of fresh pineapple when I got home to fuel my workout.
Dinner
Dinner happened to be a repeat of last week – Asian Marinated Salmon (recipe coming very soon!) with a side of sauteed brussels sprouts and some more foccacia bread. If I repeat the salmon again next week (because it's so good there's a strong likelyhood I will!), I'll try to make sure I don't have it on Tuesday night so that I have more variety in my WIAW posts!
I finished off the night with a glass of wine – The Seeker Sauvignon Blanc from the Marlborough region of New Zealand (my favorite wine region). Delicious.
And that's what I ate Wednesday Tuesday! Be back tomorrow with a tasty new recipe!