Happy Wednesday!
Here is my fourth WIAW. For those of you who don't know, Jen over at Peas and Crayons hosts WIAW every week – check out her blog for more information on it!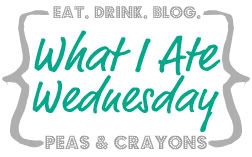 Breakfast
Breakfast was raspberry overnight oats consisting of old fashioned oats, vanilla Chobani, milk, chia seeds, vanilla, agave nectar, pumpkin pie spice and raspberries.
Snacks (aka lunch)
I snacked throughout the afternoon on a refreshing lemon smoothie (recipe at the bottom of this post!), an apple, some roasted brussels sprouts and an extremely delicious double chocolate oat cookie (recipe coming soon!).
Dinner
Dinner was a big bowl of potato leek soup (recipe coming soon!) and a side of roasted cauliflower. Clearly, you can't have soup without bread, but I forgot to photograph that!
Finally, I ended my night with a glass of Matua Valley Sauvignon Blanc from Marlborough New Zealand. Marlborough is my absolute favorite wine region – eventually, I will have to do a whole post about the unique sauvignon blanc wines produced there!
And that's WIAW!
Let's backtrack to the Refreshing Lemon Smoothie I had for lunch.
It was a cold, rainy and dreary day here in New Hampshire. To make the day more cheerful, I decided to make a refreshing summer smoothie! I've started to fall in love with the lemon flavored Chobani greek yogurts lately, so I used that as my base and worked from there. The result was delicious! Tangy, tart, sweet, and full of summer!
Refreshing Lemon Smoothie
Ingredients:
1 6 oz lemon Chobani greek yogurt
1 frozen banana
1/4 cup 1% milk
juice of 2 lemons (about 1/2 cup)
4 ice cubes (give or take)
1 tbsp agave nectar (honey would work too)
Directions:
Put all ingredients in a blender and blend until smooth.
Enjoy!