Happy Wednesday! This morning I had a decent run, but I had to cut it shorter than I wanted because I'm headed out for a meeting. I also forgot to turn my Garmin on for the first couple minutes, so I ran a little farther than this.
Since it's Wednesday, I finally decided to do my first What I Ate Wednesday (WIAW) post! If you read healthy living blogs, you've probably seen a lot of other people participating in WIAW. It's hosted by Jen over at Peas and Crayons. Basically, it's a food diary where you photograph everything you eat one day. I must warn you, I'm a snacker, so my WIAW is more snacks than meals! If you find it boring, you can skip to the end because one of my daily eats was a delicious new recipe that I'm sharing. Here goes my first WIAW!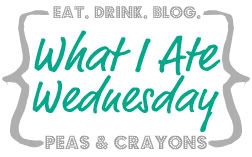 Breakfast
My breakfast was my usual Nutella Overnight Oats (recipe here) with raspberries instead of bananas.
Snacks (my lunch generally is a bunch of snacks)
For lunch I usually have multiple snacks (spaced out). Today I had an Orange Creamsicle Spinach Smoothie (recipe here), Whole Wheat Homemade Cheez-Its (recipe here), Carrot Fries (recipe at the end of this post!), and lots of water plus a strawberry lemon chia drink that I made myself. I also had some un-photographed chips and homemade guacamole.
Dinner
Dinner was a delicious quinoa burger (a new recipe that I will be posting soon!) and some roasted brussels sprouts on the side.
And that's WIAW!
Let's backtrack to those carrot fries I had as a snack this afternoon. I love sweet potato fries. I love parsnip fries. Parsnips are like carrots. So I thought, why not try to make carrot fries? Well, I did! And they were amazing! They may even be my new favorite of the three.
You make them just like the others. Waiting for them to finish baking is the hardest part. Other than that, they are easy peasy!
Just chop your carrots into rectangular fry shapes and preheat your oven to 425.
Then place them in a large bowl and toss them with the olive oil, cornstarch and spices.
Spread them out on an oiled baking sheet and bake at 425 for about 40 minutes, flipping halfway through.
And you're done!
Enjoy!
Carrot Fries
Ingredients:
5 carrots
1 tbsp olive oil
1/2 tbsp cornstarch
1 tsp salt (more or less to taste)
a few dashes of pepper
1/2 tsp paprika
1/4 tsp cayenne
any other spices you want to add!
Directions:
Preheat oven to 425.
Peel the carrots and slice them into rectangular fry shapes.
Place them in large bowl and toss them with the olive oil, cornstarch and spices until well coated.
Spread out the coated fries on a greased baking sheet and bake at 425 for about 40 minutes, turning once. *Check them after about 30 minutes – depending upon how thinly/thickly you cut them, they may need more or less time.
Let cool for a few minutes and enjoy!