Happy Wednesday!
As I mentioned yesterday, I suddenly have a very busy schedule. When you're strapped for time, you simply have to make time for working out because it should be a priority. So even if I can only get in a quick workout, I'm still going to make sure I'm getting my sweat on at least 5 days a week.
Three days a week, I'm hoping to continue running when I get home from work. On the days that I'm not running, I've found a new fitness love that is helping me make the most of my time: Jillian's 30 Day Shred DVD.
(source)
I've never been a big fan of fitness DVD's, but I think this one is incredibly effective for a 20 minute workout. It always has me sweating at the end, which is what I want from a good workout! In addition, it incorporates a lot of strength training, so it makes for great cross training on my non-running days. If I have time, I try to do a little more strength training on my own afterwords, but when I don't, I still know I got a decent workout in in a short amount of time. (Note – I'm not trying to lose 20 pounds in 30 days as the DVD suggests!)
Moving on to my fifth WIAW! For those of you who don't know, Jen over at Peas and Crayons hosts WIAW every week – check out her blog for more information on it!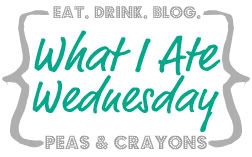 Breakfast
Breakfast was Nutella Overnight Oats (picture was taken just after they were made, so they aren't thick yet). I know, I know – I'm in a breakfast rut. But overnight oats are so good and they always keep me full for a few hours! I eat breakfast around 7 and don't have a lunch break until 1, so I need something really filling. 
I do try to sneak in a snack or two in the morning, and today's snack was a Cliff Iced Oatmeal Cookie Zbar.
Lunch
Lunch was an everything bagel with cream cheese.
Along with a Naked Green Machine Smoothie.
In addition, someone brought me a slice of cake at my office – I didn't refuse! 🙂
Dinner
Dinner was a quick and easy Mexican Tortilla Pizza! I'll be posting the recipe soon!
And that's WIAW! Be back tomorow with a delicious new recipe!