Guess what today is? National Running Day! (By the way, I cannot believe I didn't know that yesterday was National Cheese Day until it was almost over! I really need to get one of those little calendars that tells you all the food holidays!) Anyways, I'll be lacing up my running shoes after work today and I hope everyone does the same! If you aren't a runner, today would be a great day to start the Couch to 5k program! I still can't believe that this time last year I could only run for a minute or two. If I can run, anyone can and it's never too late to start! (If you want to hear more about my running story, check out my About Me page.)
Before I get to WIAW, I wanted to link up to this article about Disney's new efforts to combat childhood obesity. They are only going to be advertising foods on their TV networks that meet certain nutritional guidelines. While the foods they advertise still may not be the healthiest once this plan is in action, I think it's a good start! I think kids need to make healthy choices on their own and hopefully this will help kids start choosing healthier foods.
Time for WIAW! For those of you who don't know, Jen over at Peas and Crayons hosts WIAW every week – check out her blog for more information on it.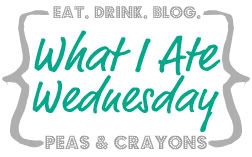 Breakfast
Breakfast was banana bread overnight oats (recipe here). I feel like I say this every week, but when it comes to breakfast (and often, lunch too) I'm a person of habit!
I also had some of my Spicy Citrus Almonds (recipe here) for a mid-morning snack.
Lunch
Lunch was an avocado spinach smoothie and a whole wheat english muffin sandwich with hummus, turkey and cheddar cheese.
In the afternoon, I had some whole wheat pineapple banana bread (recipe coming soon!) to hold me over through my yoga class. The banana bread loaf has been dissapearing quite fast – I can't wait to share the recipe!
Dinner
Dinner was not the healthiest today. In fact, other than the spinach in my smoothie, I didn't have any vegetables today. Oh well, we all have days like that! I was craving Mac 'N Cheese and there happens to be a Mac 'N Cheese restaurant called Mr. Mac's right by my yoga studio. I've been wanting to try it out for a while, and as it was already 8pm and I didn't feel like cooking, I decided to give it a go! Plus, I had to make up for missing National Cheese Day yesterday :).
And that's what I ate Wednesday Tuesday! Be back tomorrow with a tasty new recipe!