Wednesday means that 1) we're one day closer to a three day weekend and 2) it's time for my sixth What I Ate Wednesday!
Before I get to WIAW, I thought some of you might be interested in reading this article published by the New York Times yesterday about the story of Micah True. If you haven't read the book, Born to Run, this will give you a shorter synopsis. Having read the book, I still found the article an interesting read.
Time for WIAW! For those of you who don't know, Jen over at Peas and Crayons hosts WIAW every week – check out her blog for more information on it.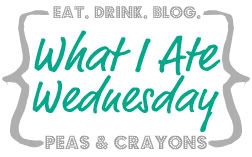 Breakfast
Breakfast was raspberry vanilla overnight oats. I basically just took my recipe for banana bread overnight oats (recipe here!) and substituted the banana for raspberries. Delicious!
I also had a mid-morning snack to get me through until lunch – Chili Lime Almonds (recipe coming soon!).
Lunch
For lunch, I had a homemade wrap made with a whole wheat tortilla, sun-dried tomato turkey, Giada's pepper/eggplant spread, spinach and cheddar cheese (yes, I know I could use some wrapping lessons!). I paired it with some blackberries on the side. It's too bad I had to scarf my lunch down in about 2 minutes flat because it was delicious! I usually spend my lunch break running home to let Teddy out, which is why I'm always so rushed to eat. It's worth it to get to see this face in the middle of the day though!
Dinner
Dinner was Asian Marinated Salmon along with some un-pictured bread and salad. I didn't get great pictures of the salmon tonight, but once I do, I'll be sharing the recipe :).
And that's a wrap for What I Ate Wednesday! Be back with a tasty new recipe tomorrow!