It's hard to believe June is almost over! Before I get to the giveaway, let's talk about yoga. The June Yoga Challenge flew by!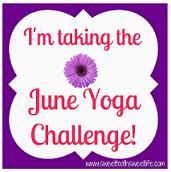 Now that the challenge is over, I wanted to give a recap on how my experience with yoga has been in these past four weeks and my overall thoughts on doing yoga.
Yoga as a beginner: Going into yoga as a true beginner (I had only done a class here and there a couple times in college), I was a little nervous. I didn't know what any of the poses were etc. and was worried about following along. As a beginner, I felt I needed to do classes at a studio where I would get some one on one attention if I was doing the poses incorrectly. I'm really glad I decided to go the yoga studio route. It ended up not being too hard to follow along and my instuctors always gave modifications for the more advanced poses. I still felt like I was making a fool out of myself sometimes, but the instructors at my studio did a good job of reminding people that the practice is all about what your body needs and not what others are doing. I did lose balance a few times, but so did a lot of other people!
Yoga attire: One thing I quickly noticed at my first class was that a long and tight top was necessary for me to be comfortable during my classes. When you're always stretching and bending upside down, a top that stays in place is important. Being tall, it can be hard to find tops that are long enough for me. So far, the tops that work best for me are Lululemon Cool Racebacks and UnderArmour heat gear ribbed racerbacks. I'm hoping to invest in some new yoga tops in the near future! Completing the challenge calls for a reward, right? 😉

Benefits of yoga:

First, I always feel good after a yoga class. Even if I didn't necessarily want to go to class because I was exhausted from work, I was always glad I went. The biggest benefit for me is that yoga ensures I get a good full body stretch because I don't stretch enough on my own. Because I run, my leg muscles seem to get really tight and yoga helps keep them stretched out. I've also noticed that I'm getting a bit more toned from yoga. Planks will do that for ya! I know that many people praise yoga for its mental benefits too. I still don't feel like I'm connecting in the whole, "Ohm" and "Namaste" sense, but maybe I will eventually. In the meantime, I try to chant "Ohm" and do my little bows without giggling :).

Overall thoughts: I really enjoy doing yoga and what it does for me. I have a long way to go before I'll even be able to do my downward dog properly, but that's one of the best things about yoga – just like running, you make the practice your own. It's about going a little deeper into a pose than you did the last class, just like running a little faster or farther on a run. I'm going to continue going to classes at my studio at least twice a week and purchase another unlimited monthly pass when my current one expires. I'm really glad I started doing yoga and completed the challenge! Thanks for hosting it, Courtney!
SlimKicker Giveaway!
Speaking of challenges, the awesome people over at SlimKicker are looking for new diet and fitness challenges to add to their website and want to give away an Ozeri Digital Kitchen Scale to one of YOU lucky readers! SlimKicker is great healthy living website that motivates people to meet health and fitness goals by turning those goals into a game filled with points, rewards and challenges. You can track your healthy calories and exercises, complete challenges, and stay motivated by being entered to win prizes. Their website is a great resource for healthy recipes and they offer an iPhone app to help you keep track of everything and stay healthy on the go.
How can you enter this giveaway?
Leave a comment with a suggestion on a fun, creative fitness or diet challenge for Slimkicker. Maybe something like the yoga challenge where you vow to do yoga x times a week, or maybe a challenge to eat an extra serving of veggies each day. Be creative! In one week, they will pick their favorite challenge idea and that person will win the giveaway!
It's as simple as that. Good luck!
*This giveaway is limited to US readers only.*
I was not compensated for this post.