June Yoga Challenge Update
The thought of delicious cake batter frozen yogurt might make most people glaze right over this yoga update :), but if you're interested, here are my thoughts on my third week of Courtney's June Yoga Challenge: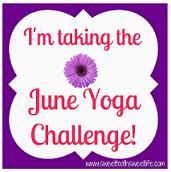 I did one Hatha class this week and I'm doing a Flow class this weekend, so I'll be meeting my goal to do yoga twice a week.
I actually noticed that my calves were tighter this week. The previous week I did more than two classes, and I'm thinking it's probably correlated. I definitely don't stretch enough on my own, and I love that yoga ensures that I have a thorough full body stretch at least a couple times a week.
One of my favorite positions is the shoulder stand. It's actually a position that I've randomly done my whole life. I often go into it while I'm playing with Teddy or stretching on the floor. I was so surprised when I found out it was a yoga pose! Who knew!
If you are the type who has trouble to committing to yoga, I think getting an unlimited monthly pass is a pretty good motivator. As I was highly stressed this week because of a lack of sleep and having the house still all in boxes, it was tempting to just skip yoga and only do one class on the weekend. But I don't want to waste my money! Gotta milk that unlimited pass for all it's worth!
If you're doing the yoga challenge too, I'd love to know how your week went!
Cake Batter Frozen Yogurt
Oh cake batter – how I love you! A cake is never made in my presence without a proper bowl licking. Raw eggs will not scare me away!
Cake batter and ice cream combined = a match made in heaven.
I still remember the first time I had cake batter ice cream at Coldstone Creamery a few years ago. It was love at first bite. I think the cake batter flavor is either something you just love or hate. Luke isn't a big fan, and I am madly in love. I love almost anything cake batter flavored.
The other day I had one of my most genius ideas ever: Homemade Cake Batter Frozen Yogurt.
SO GOOD. It has the soft and smooth texture of soft serve frozen yogurt and the sweet delicious taste of cake batter in every bite! I am still in awe that I can now enjoy my cake batter ice cream (well, frozen yogurt in this case) at home, any time I want. And it's frozen yogurt, so it's kind of good for you ;). I made mine with funfetti cake mix because, clearly, funfetti is the best!
If you're a cake batter fan, please try this. It's so easy to make – no ice cream machine required!
Just place all of the ingredients in a blender and blend until smooth.
Transfer it into a bowl, cover and freeze for at least 5 hours.
Remove the frozen mixture from the bowl (run hot water on the outside of bowl) and chop it up.
Place it in your food processor and blend until smooth.
Top with sprinkles and enjoy! Serve immediately and eat it before it melts! You shouldn't have any trouble doing that 🙂
Cake Batter Frozen Yogurt
Serves 2. (Unless you eat it all like I did!)
Ingredients:
1 cup vanilla Chobani greek yogurt
1/2 cup 1% milk
1 frozen banana
6 tbsp funfetti cake mix (or any white cake mix, but funfetti is more fun!)
Directions:
Place all of the ingredients in a blender and blend until smooth. You can add more or less cake mix to taste, but I found that 6 tbsp was just the right amount.
Pour the mixture into a bowl, cover, and freeze for at least 5 hours.
When the mixture is frozen, run warm water over the back of the bowl so that it will come out of the bowl easily. Then chop up the frozen mixture into a few pieces so that it will fit in your food processor.
Transfer the frozen chunks to a food processor and blend until smooth.
Top with sprinkles and eat immediately before it melts!
*Note – the consistency of this frozen yogurt is like soft serve, not ice cream.